Garden Fence
The appeal of a garden fence or picket style fence lies in its airy inviting appearance, usually representing an entrance to your front garden.
Traditionally a white picket fence was used but these days there are a variety of styles and materials that are suitable as a garden fence.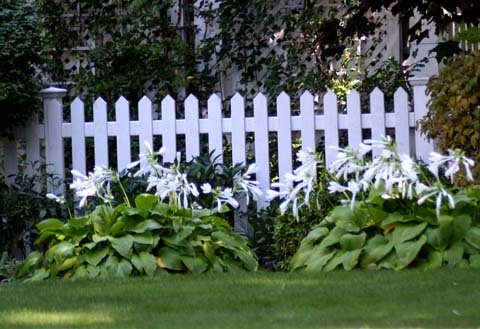 This type of fence is not used for privacy but mainly as a decorative fence.
However there are other uses such as defining private property, traffic control especially if your house is on a corner and as a back drop for shrubs and plants. You can also sub divide the back yard, for example, around a swimming pool, a vegetable garden or fencing of an area from your pet.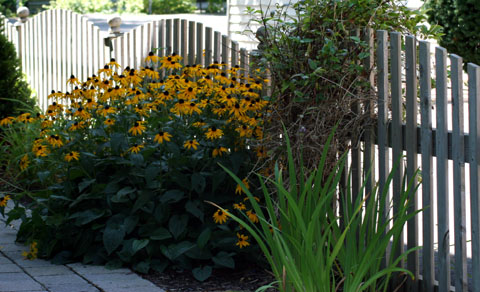 The usual height for a garden fence is between 36" to 48" tall. You would be using lumber of smaller dimension.
Vertical boards could be of 2x2", 1X3", 1X4" etc.The horizontal stringers are usually a 2x3" or a 2x4".Posts can be 4X4", 5X5 or 6X6".The post can even be clad to give it more dimension.
A decorative cap is a nice touch.
There are a variety of picket styles to choose from at most building supply dealers.
It is customary to paint or stain your fence. There is an array of color you may choose from. Take into account your house's trim color and the mood you want to create before deciding on a color. Even dark colors like black and bronze can be very attractive in the right setting.
If you are painting your fence first you must use a primer on your wood.
You will need to apply two coats of paint.Weather you are painting or staining you fence follow the direction according to product information.
Here are some other examples of fences.
All of the above fences were constructed from wood. If you need help with building the fence please see our step by step instruction.
There are several other options that may be more suitable for your fence needs.
Wrought iron, aluminum, etc. You can purchase these fences from your local building supply dealer or a fence company. You can have them installed or do it your self.


Custom Search